About PatriotIcon.org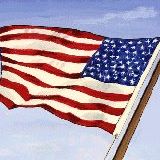 PatriotIcon.org launched in September 2001, after the attacks on the World Trade Center occurred on September 11th. The site originally began as a new way for website owners express their patriotism and love for their country during difficult times with a patriotic favicon or "patriot icon". Americans were united and flying flags from their homes, places of work, and even their cars. PatriotIcon gave them a way to fly the flag online as well via their website or as an avatar for instant messaging or online forums. The site quickly garnered recognition from the Internet community and mainstream media for its unique and free downloads and resources.
Over the years, PatriotIcon has remained true to our focus of providing free patriotic favicons. The site continues to expand, now providing everything from patriotic downloads, flag flying information, presidential information, patriotic holidays, fun patriotic trivia, and more.
Download your own free patriot icon that you can use on your own website, blog, or social media profile.
In The News
PatriotIcon.org has been featured in the following publications. For media inquiries, please contact us.
Connect with Us
To contact us via email or postal mail, visit our Contact Us page.
Stay up-to-date with the latest international calling news, tools, and information by following us on your favorite social media site: